Clean Salesforce data faster.
DemandTools by Validity is the secure data quality platform that enables organizations to clean and manage Salesforce data in less time, enabling everyone to do their jobs more effectively, efficiently, and profitably.
Trusted in thousands of Salesforce Orgs.
Demand more accuracy and profitability from your data.
Manage your data in minutes, not months.
Manage all aspects of your data in bulk with repeatable processes instead of record by record or need by need.
Get accurate, report-ready data you can trust.
Dedupe, standardize, and assign records automatically as they come in from spreadsheets, end user entry, and integrations.
Enable everyone to do their jobs more effectively, efficiently, and profitably.
Get clean data to improve the performance of sales, marketing, and support, as well as the revenue and retention they generate.
Learn about all the features in DemandTools
Manage your data in minutes, not months.
Deduplicating, standardizing, importing, managing record ownership, and manipulating data in your CRM is so time consuming it becomes inconsistent, taking a back seat to other priorities. With DemandTools, businesses manage all aspects of their data in a fraction of the time so prioritizing data quality is a benefit instead of a burden. Clean and maintain CRM records faster to run your business on high quality data today and every day after with DemandTools.
Manage your data in less time with:
Mass modification. Increase data maintenance frequency by applying uniformed changes across data sets to standardize or change field values and align record ownership.
Saved processes for easy re-use or automation. Your common use cases take only moments to initiate or no longer require manual intervention to execute.
"DemandTools is a highly recommended tool for any data operations/management team. My team was able to clean up and standardize a lot of Salesforce data within two months of procuring the tool vs. something that would've taken at least a couple of years to do it manually. DemandTools has enabled us to initiate multiple new data-specific initiatives and has become key to our success."
Veer Makwana
Senior Manager, Strategy & Operations – Akamai
Get accurate, report-ready data you can trust.
Data enters your CRM from many sources, all with their own formats, field naming conventions, and duplicates to your existing records. Because of this, businesses can't trust their reports represent accurate and complete data sets. DemandTools removes this doubt and restores confidence in your reports by automatically deduping, standardizing, and assigning records as they come in from different sources. For trustworthy insights to direct your data-driven strategy, get your data report-ready using DemandTools.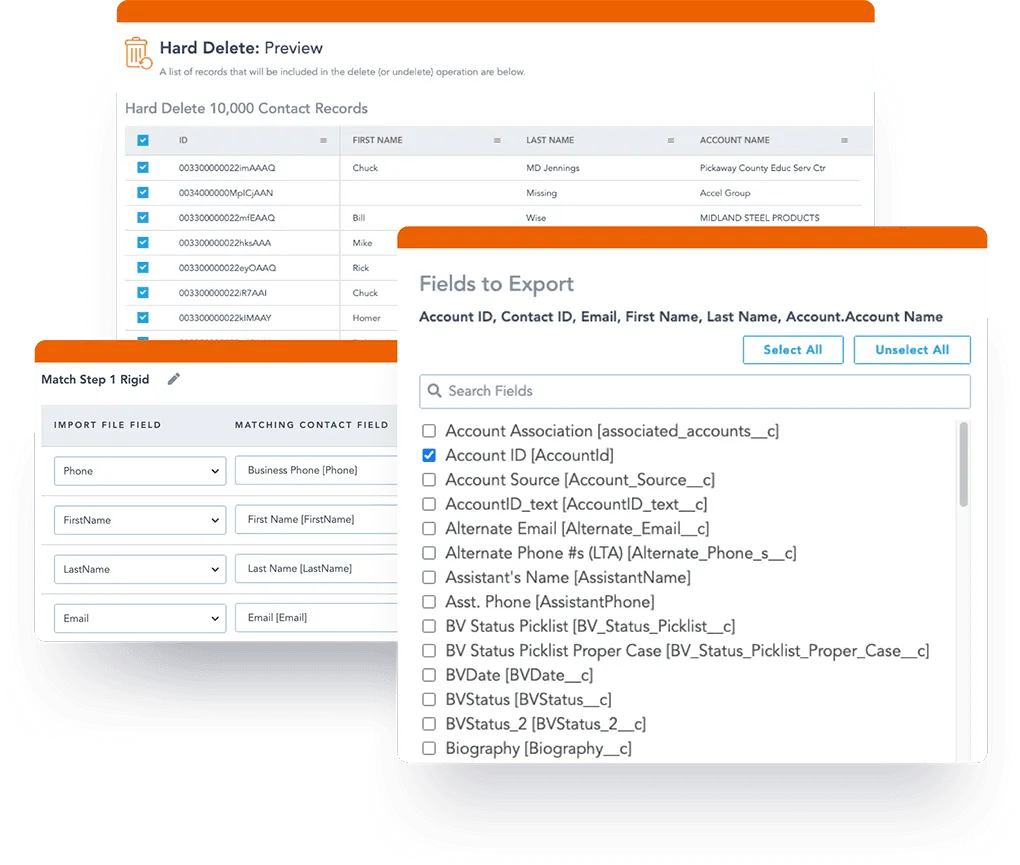 Trust your data every time with:
"DemandTools is absolutely necessary for an org to be able to efficiently cleanse and manipulate data. Unlike its out-of-the-box counterpart, DemandTools allows for data transparency and contextualization before any actions are taken. It gains days back in terms of project timelines and makes data manipulation and cleansing projects, that seemed impossible previously, manageable."
Kaitlin Draper, Sales Technology Supervisor
Jack Henry & Associates, Inc.
Enable everyone to do their jobs more effectively, efficiently, and profitably.
Poor data quality wreaks havoc on businesses by adding friction to the customer journey, increasing customer acquisition costs, decreasing conversion rates, confusing and slowing down sales follow-up, and ultimately tarnishing your brand reputation. DemandTools keeps your data quality high to improve the effectiveness of your sales, marketing, and customer support teams, as well as the revenue and retention they generate. Protect your customer journey and decrease sales, marketing, and operational costs by maintaining clean data with DemandTools.
Improve revenue operations with:
Recurring automation of data quality routines. Continuously deliver standardized, report-ready data your teams can use to strategize and execute successfully.
Real-time duplicate prevention. Stop multiple inquiries from the same customer or prospect from interfering in your sales process or customer journey.
"We recently underwent a large project involving our Salesforce data, and DemandTools made the process so much easier. We utilized DemandTools to perform mass updates, apply custom scoring on duplicate records, and update existing records using external files. We completed the project ahead of schedule and saved a significant amount of time and resources. I would absolutely recommend DemandTools to anyone responsible for maintaining data integrity within their Salesforce CRM."
James Drees, Director, Sales Operations
Plantronics, Inc.
See why CRM data professionals choose DemandTools to manage their data and improve its effectiveness across the business.
"I had to combine two separate instances in Salesforce, and I don't know how I could have done that without DemandTools. It would have been a data nightmare. To make sure I wasn't importing duplicate data was just immeasurable. Prior to DemandTools, I had no other way to do this other than manually."
Leyna Hoffer,
Salesforce Hall of Famer and 9x MVP
Gerry Marletta,
Director of Technology Operations
"In terms of productivity, I'm easily shaving off 80 to 90 percent of the manual work that would need to be done without these tools."
"The most prevalent return on investment is in the freeing up resources. Not having to pay a $30,000, $40,000 or even $50,000 a year salary for one or more people to update records or do various other Salesforce jobs manually is a big savings to any company."
Karen Hayum,
Experienced Salesforce Administrator
Be the guardian of your most valuable business asset.
Start your free trial today and see how DemandTools strengthens your business by giving you clean data you can trust.