Validity for
Data Management
Simplify data management with solutions that improve data quality and increase CRM adoption.
Having faith in your CRM data is critical to any high performing organization. Use a proven solution to make your data clean and reliable for accurate pipeline management, more effective campaigns, and better customer relations.
Be confident that you can get in touch with email, phone and address verification that also helps prevent errors when capturing contact data.
Remove and prevent duplicates, standardize and modify data, manage imports, and more with the leading suite of data management solutions for Salesforce.
Boost data management productivity and operational efficiency through grid-based data orientations within the Salesforce workspace.
Understand the health of your customer data through analytics that explain how your data quality affects pipeline management, campaign performance, and customer retention.
Data Verification with BriteVerify
Stop bouncing and start converting your subscribers.
You spend a lot of time and money acquiring and contacting your prospects and consumers. However, either at the point of acquisition or over time, invalid email addresses, phone numbers, and physical addresses end up on your list.
These inaccuracies prevent you from communicating with valuable subscribers. With BriteVerify, you ensure you have clean contact data by verifying at the point of acquisition or in bulk. Keep your CRM data clean and dependable so you can focus on driving business priorities forward.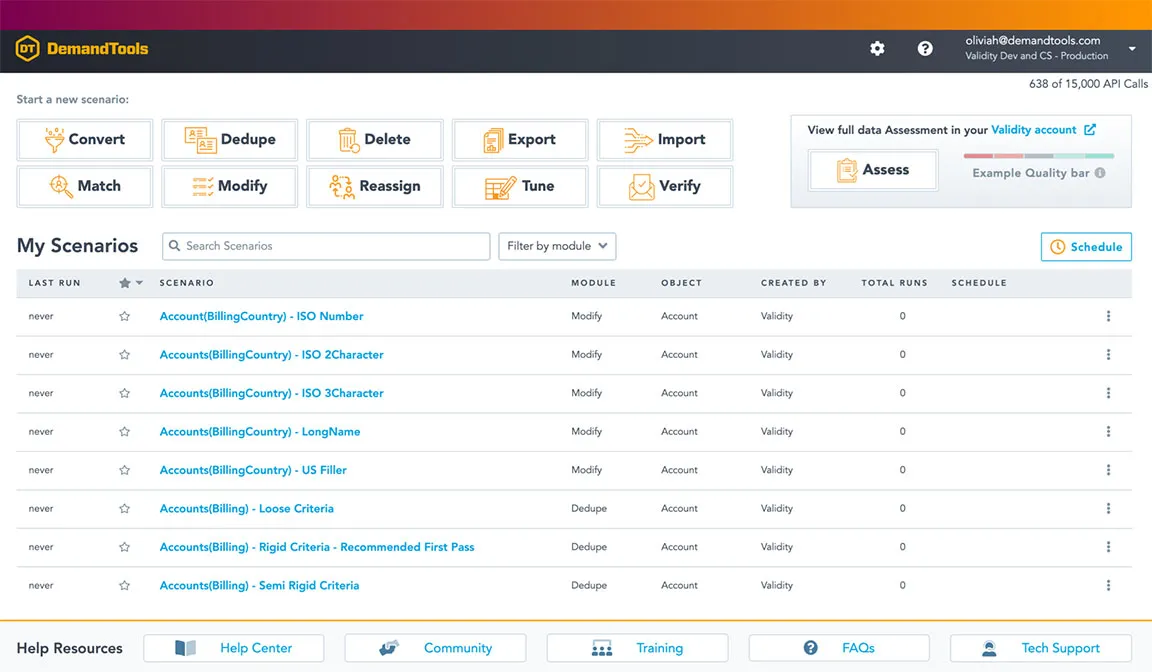 Data Maintenance with DemandTools for Salesforce
Ensure your data remains your most valuable asset.
DemandTools is the most versatile and secure data management platform for cleaning and maintaining CRM data in less time, so you always have report-ready data improving the effectiveness of your revenue operations.
GridBuddy Cloud
Boost productivity and operational efficiency.
Create a clear, informative way to interact with your data for more productive end users and a more predictable business.
GridBuddy Cloud combines fields from multiple objects and multiple Salesforce orgs into one, editable view so you can quickly and accurately manage your data.
What Validity For Data Management Delivers
Data Management doesn't have to be challenging. Validity for Data Management provides a complete set of solutions that allow you to manage, understand, and maintain your CRM data. These tools integrate easily and provide quick returns, saving your organization invaluable time and money.
Uncover opportunities to increase revenue and make functional teams more effective through Trust Assessments' data quality analyses.
Deduplication and
Duplicate Prevention
Maintain accurate visibility into your CRM data from all angles with proactive and reactive deduplication techniques. 
Adhere to a defined data standard to improve reporting accuracy by simplifying queries to a single option per field.
Email, phone and address verification
Ensure your communications are received with email, phone, and address verification that can be used on web forms and in bulk.
Perform on-demand backups prior to executing mass data changes, like merging, to reverse unwanted changes and backup data on an automated schedule for fast data disaster recovery.
Use different data orientations in a spreadsheet-like layout to manage data in one screen, across multiple objects, with only the fields and records relevant to the task at hand, without leaving Salesforce.
Resolve duplicates and uncover relationships between leads and existing contacts and accounts or mass convert leads when nurturing strategies change.
Import data without creating duplicates and route incoming lead and contact records to the correct owner and campaign during import.
Get Validity For Data Management Now
Your business decisions and strategy are only as good as the data fueling them. Validity for Data Management is a complete solution for ensuring quality data, a trustworthy contact list, and driving toward CRM adoption. Confidence in your data means confidence in your business decisions.
Email and data solutions for every industry.
Validity For
Email Marketing
Increase inbox placement and maximize subscriber reach with clean and actionable data.
Validity For
Sales Productivity
Give your sales team back hours per day with tools designed to increase productivity and mitigate pipeline risks in real-time.