Detect, eliminate, and prevent duplicate records from misleading your sales and marketing teams and causing friction in your customer journey.
Clean up existing duplicates and maintain a duplicate-free CRM.
Standard and custom object merging, including Contacts with indirect Account relationships
Cross-object deduplication for Leads, Contacts, and Accounts
Lead to Account linking
Ability to identify duplicates by matching fields or loading a file
20+ exact, fuzzy, and customizable matching algorithms
Cross-field matching (e.g., compare the email field against the alternate email field)
Custom and out-of-the-box deduplication scenarios, winning record rules, and field rules
Inline editable, and exportable duplicate results grid
Post-merge file to track which record IDs remained in Salesforce
Option to save and schedule deduplication scenarios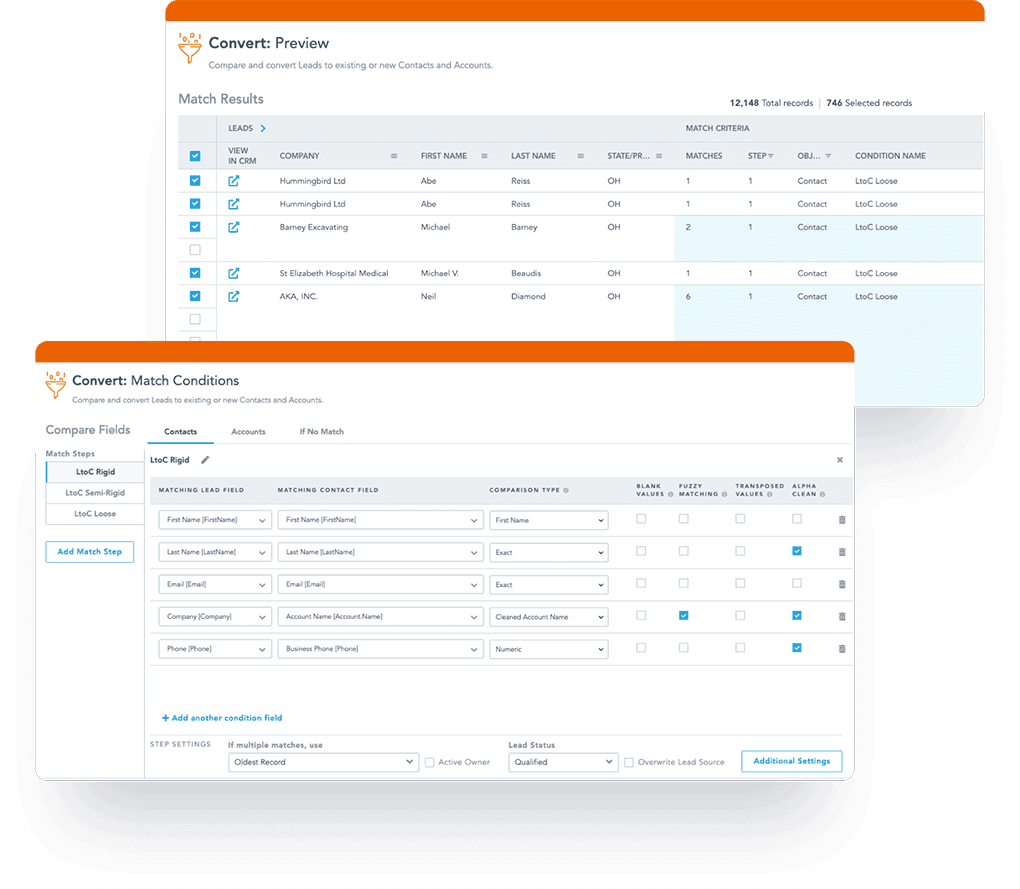 Ensure list imports don't create duplicates and that records get routed to the correct owner and Campaign in one process.
Compare spreadsheets against existing Leads, Contacts, and Accounts simultaneously
Use comparison steps to match records using different combinations of fields and matching algorithms
Create new Leads, Contacts, and Accounts or add new Contacts to existing Accounts
Update existing records when matches are found
Associate Leads and Contacts to Campaigns
Assign follow-up Tasks for each record
Save scenario settings for future imports
Put a protective barrier around Salesforce and prevent duplicates at the source.
Native Salesforce duplicate blocker and part of the DemandTools suite
Identify duplicates in real time and handle them based on business needs and end user experience.
Prevent duplicates on standard and custom objects and between Lead, Contact, and Account records
Detect duplicates as records are created or updated
Block, auto-merge, auto-convert, and report duplicates or redirect users to an existing record
Customize the action taken when a duplicate is detected with Apex code
Bypass record blocking based on lead source or scenario settings
Best data management tool I've used
"We initially purchased DemandTools specifically for deduping but quickly found that it can be used for so much more. The duplicate management tool is extremely powerful. I can't live without the record merge function. Excellent customer support—responds quickly. Some of the best application resources I've used."
Deb Luebchow, Regional Solutions Expert / IT Project Manager, Doosan Portable Power
Be the guardian of your most valuable business asset.
Set up time with one of our data experts today and learn how DemandTools strengthens your business by giving you clean data you can trust.