Update and work with your data faster.
A spreadsheet-simple user experience to make updates in-line and navigate your data faster.
Multi-object inline editable grids
Update records across multiple objects in one view instead of clicking between browser tabs.
Manage updates for multiple records across objects in one spot with no limitations on field type or the number of records you can update.
Create new records from within the grid workspace and set default field values for faster record creation.
Organize and sort data by grouping records based on shared field values, such as grouping all records from Ohio, rather than configuring specific reports or views.
Showcase your most important fields in the main view of your grid.
View supplemental information using data cards to see more fields without cluttering the main view.
Customize how a field or object behaves in the grid such as making records of a specific object read only or making a field required without affecting your existing CRM configuration.
Rely on Salesforce and Microsoft Dynamics 365 user permissions to determine grid data access.
Filters and expansive search
Zero in on data that meets the same criteria.
Create and save filters for easy use across grids
Define separate filters for each object in the grid using any field.
Work with records from unrelated objects in the same grid, such as Leads that match Accounts based on company name.
Filter the grid by values of a particular field with the click of a button using Quick Filters.
Show parent records with or without child object records by setting cross object filters.
Search 50x more records than native CRM search and other grid solutions, search across field types, and search your entire results set—not just the page you're on.
Bring attention to the fields that matter most.
Color code a field's background, change the font color, or apply text formatting like bolding fields that meet specific criteria. For example, color the email field red if it's blank, or highlight open opportunities in yellow if the closed date is in the past.
See the conditional formatting the moment a field meets the specified criteria, even before the change is saved.
Create different conditional formatting rules for the parent and child objects in a grid.
Use relative date values such as "Today" for easy set up on date and time fields.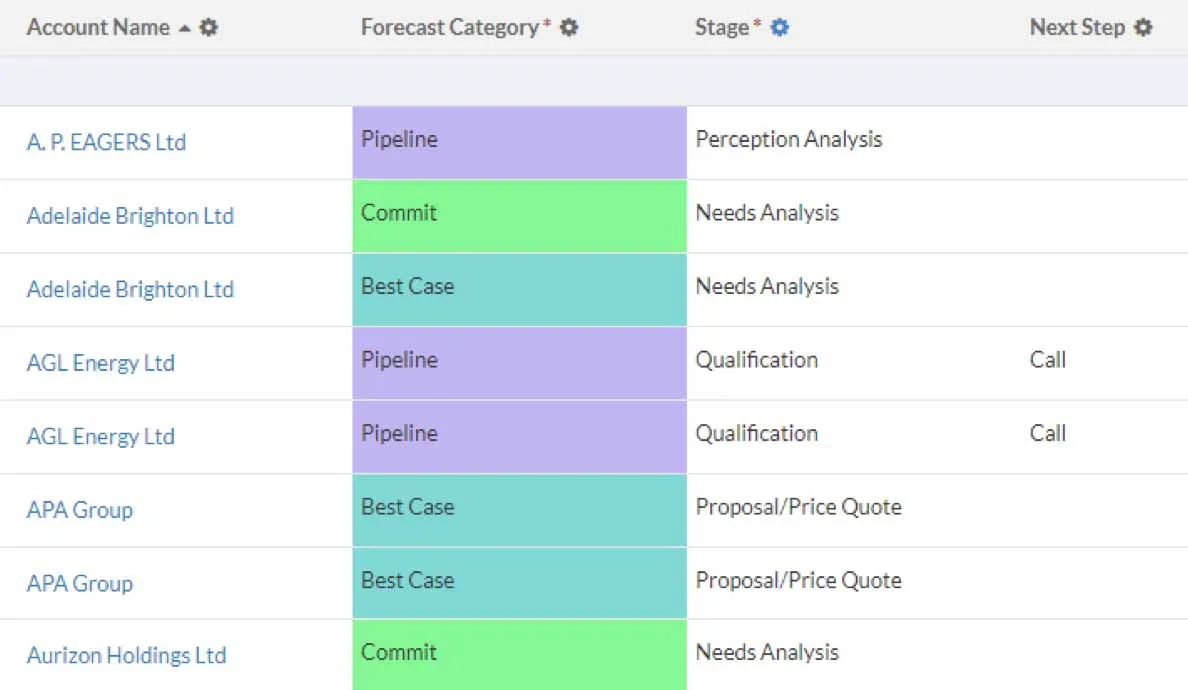 Make more functionality accessible from the grid.
Use single actions to work with one record at a time, such as sending an email, without leaving the grid.
Apply batch actions to multiple records at once, like adding a list of contacts to a Salesloft cadence.
Include global actions buttons to launch commands that don't depend on a record to execute, such as opening a Salesforce report or another GridBuddy Connect grid.
Customize how actions are experienced by end users with options to embed in the grid or pop up in a new window.
Multi-object, inline editable reports
Get better data insights with grids.
Create reports out of the same multi-object, inline editable grid view used to update your data.
Rely on the same features— filters, conditional formatting, record grouping, and actions—for better reports with easier configuration.
Get quick insights by showing the sum, min, max, or average for numeric fields within the grid view.
Rely on the Forecast View to organize and manage deals by viewing things like expected close date and forecast stage with revenue summaries for each time frame.
Include records from multiple data sources for more informed reports with better insights.
"While we could report on our CRM data, we couldn't easily update fields across multiple objects and multiple records within the same object type. GridBuddy Connect makes us more efficient by empowering us to report on and actively update information all in one go."
Connect your data to make better connections with your customers.
See for yourself how GridBuddy Connect keeps your team more focused on growing your business than updating your data.