Your all-in-one email success platform awaits.
Everest gives you the insights and guidance you need to improve your email performance with flexible options to fit the needs of businesses large and small.
We've got the right plan for your business.
For teams who are just getting started with email deliverability.
Email program setup tooling
Basic monitoring
Ideal for shared IPs & lower volumes
For teams who understand deliverability and are working to improve campaign results.
Everything in Essentials, plus:
Customized reporting​
Analysis across all campaign stages
Detailed data feeds and integrations
For teams who are continuously looking for ways to innovate and optimize email performance.
Everything in Enterprise, plus:
Competitive Intel​
Year over year trend analysis
Advanced customization and alerting
Trusted by over 10,000 marketers.


Get more messages to more people.
Many marketers don't have insight into the percent of mail reaching the inbox – a critical  metric to truly understand performance, diagnose and fix issues, and reach more recipients. Everest gives you complete visibility into your email marketing metrics and sender reputation to improve your email deliverability. Get actionable insights to identify problem areas, prioritize areas of focus, and resolve issues so you can get more emails to the inbox and in front of more people.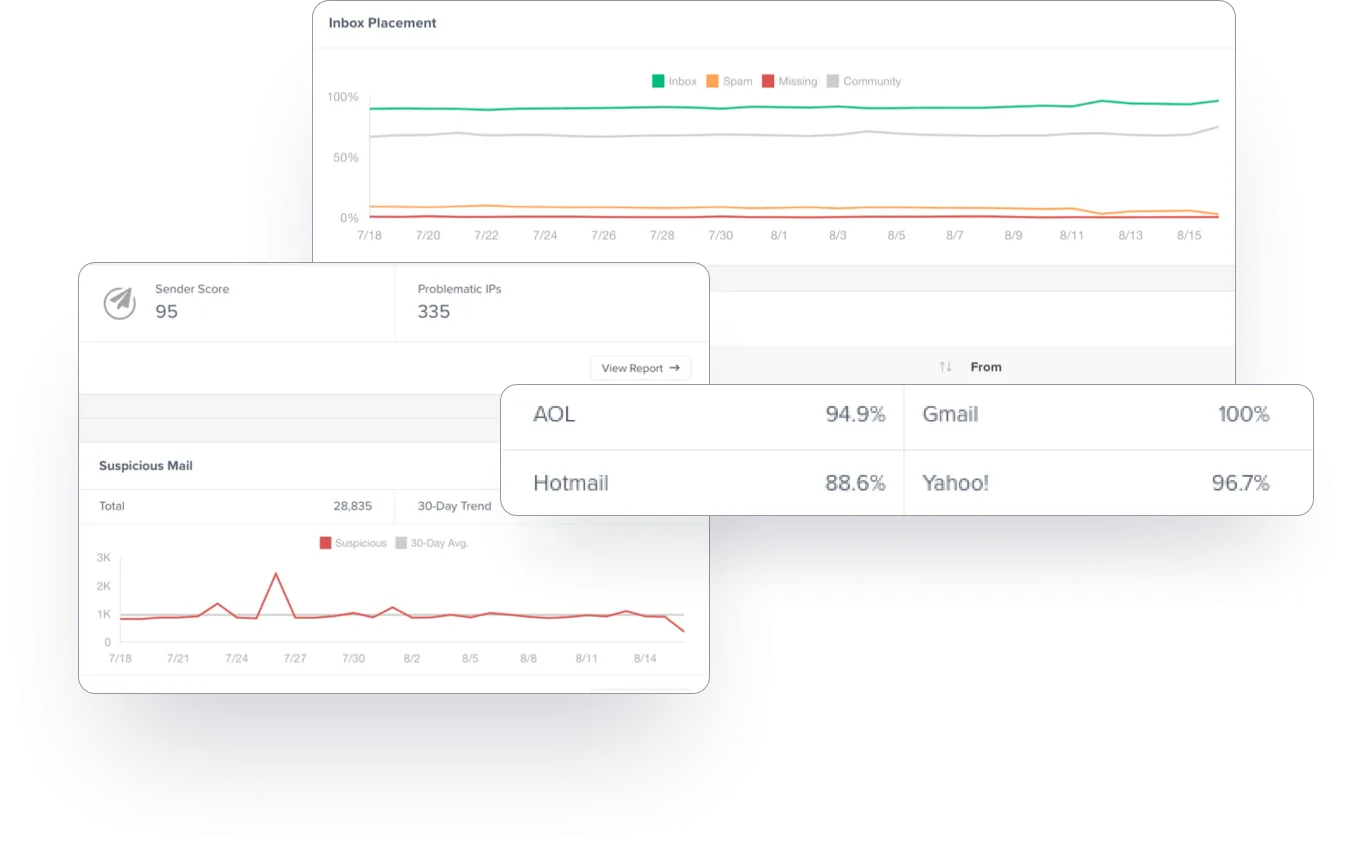 Maximize your email deliverability with:
Inbox placement insights by mailbox provider tailored to the composition of your list so you can prioritize areas that have the greatest impact on your program.
Proactive monitoring of your sender reputation using our industry-leading network to stay on top of blocklists, spam traps, and other critical reputation signals.
Integrated list validation to identify inaccurate or problematic addresses before mailing them to reduce bounces and protect your reputation.
Validity's exclusive Certification program built from our broad partnerships with leading mailbox providers to help reputable senders achieve higher inbox placement rates.
"The great thing about our program now is that email deliverability is so high, which has led to record engagement levels and gives us peace of mind that our members are getting early access to promotions, offers, and invitations, which is what they signed up for. We are subsequently seeing increased revenue, improved financial performance, and much happier customers."
Adam Purslow, IT Director
Individual Restaurants
Stand out in a crowded inbox.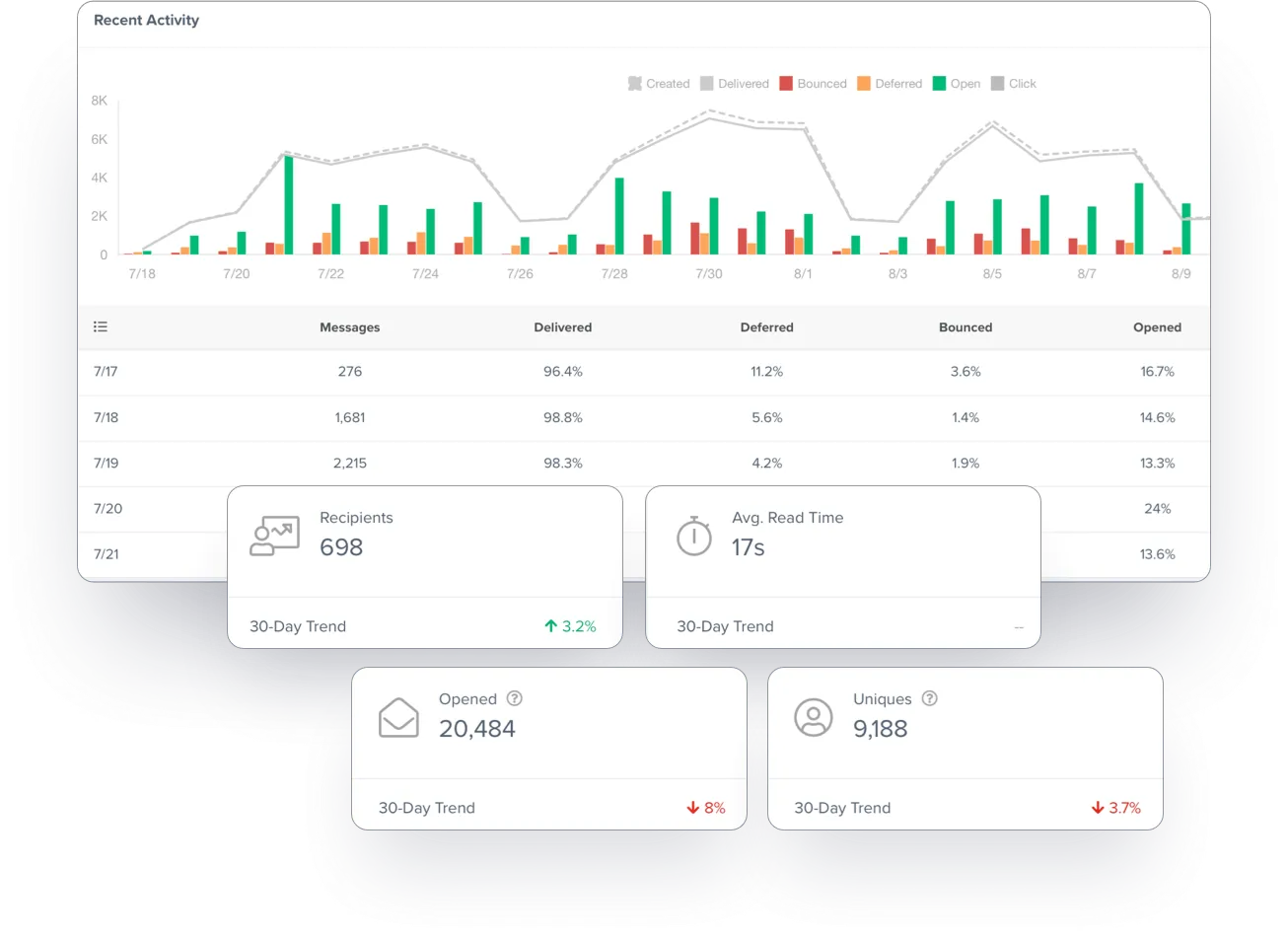 Congested inboxes and tighter filtering algorithms make it more difficult to attract the attention of your email recipients. To stand out, you must have a deep understanding of your audience and deliver content that is timely, personalized, and functions flawlessly on any device. Everest goes beyond the metrics you get from your email service provider. With deeper engagement analytics and visibility into your competitors' sending practices, you can build campaigns that appeal to your audience and stand out from other senders. With Everest, you'll increase the visibility of your messages in a crowded inbox and drive more conversions from your recipients.
Engage more recipients via email with:
Design tests and subject line preview to ensure your messages look good and function properly on the devices your recipients use to open.
Visibility into your competitors' sending practices, including send volume and frequency, subject lines, and challenge areas.
Deeper engagement metrics and actionable analytics to optimize your campaigns to appeal to your audience.
Everest's exclusive View Time Optimization technology to deliver emails to top inbox positions the moment users are active.
"Our deliverability has increased and we are in a better position to remove the 'unwanted' records much earlier in the process. Our inbox placement is much stronger and is continually going up . . . to remain successful we are taking all measures and using the best tools in the industry to do so."
Courtney Cope, Director, Data Operations
MeritB2B
Execute better campaigns, faster.
It's extremely time-consuming to dig through data from different sources, manage your contact database, and identify what to prioritize to improve the outcomes you drive via email. As a busy marketer, this is valuable time that is better spent executing optimized campaigns and driving results.
Everest gives you a holistic view of your email program with the insights, guidance, and exclusive data you need at your fingertips in a single platform. With Everest, you can make decisions quickly to optimize your campaigns, react instantly to issues before they impact performance, and understand trends over time to better focus efforts and demonstrate effectiveness.
Improve email program efficiency with:
Integrations with your email service provider, feedback loops, and third-party reputation sources for a single view of your email data.
Customizable alerts providing real-time notifications into campaign data so you can anticipate and react to problems before they impact performance.
Configurable dashboards combining all your deliverability, DMARC, and engagement data into a single, intuitive, and sharable interface.
Reporting and benchmarks so you can measure performance over time and against others to prioritize efforts and showcase success.
"We've seen faster delivery and incremental gains in placement, which have led to significant improvements in all of our metrics, including fewer bounces and a 20% increase in open rates."
James Howe, Email Broadcast Manager
Marks & Spencer
Integrate with your existing email marketing tools.
Everest integrates with major email service providers (ESPs) and offers a universal data ingestion intake service so you can work from a single platform.

Built for you using decades of email marketing experience.
Everest is built by the combined forces of Return Path, BriteVerify, and 250ok. Bringing together 20+ years of email marketing experience and continuous learning from thousands of customers into this unified and powerful platform.
See why marketers choose Everest to boost email performance and improve the efficiency of their program.

"I'm impressed by the whole platform. It's great having everything in one place instead of working with five different partners, it's intuitive and it's helped streamline my work tremendously."
Jen Partin,
Sr. Email Marketing Manager,
Hickory Farms
Charlie Wijen,
Digital and CRM Specialist,
Philips
"Our inbox placement rates, sending to both B2C and B2B audiences, have risen to an impressive 91-98%. We are clear there's a straight-line relationship between better inbox placement performance and Philips' program revenue."
"Email is a key channel for us, so getting this right is a must. We are delighted with the results we have seen since joining the Certification program. Our deliverability rates have increased substantially, which is fantastic."
Neil McKendrick,
Email Manager,
Health Service Discounts
Become the hero of your marketing team.
Set up time with one of our guides today to see how Everest will help you get more opens, clicks, and conversions from your email marketing program.